How to fix "Your current security settings do not allow this file to be downloaded" in Windows OS
Synopsis
When You are downloading any file in windows OS from Browser and got an error message "Your current security settings do not allow this file to be downloaded" ,
Then follow these step in your system:
Click on the Security tab.
Select the Internet Zone.
Click on the Custom Level button and then scroll down to Downloads.
Make sure to enable File download.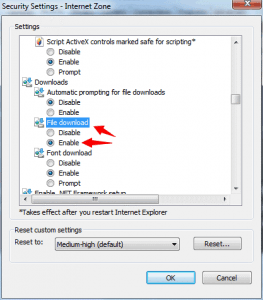 Click Apply and Ok.
Restart Internet Explorer and Download the file again.